Words & Images Linus Bergman-
In the deep north is a place. A place very different from others. This is a place where rock formations, hundreds of meters high, meet the sea.
It's a place where nature almost feels untouched.
In summer the sun never leaves, in winter it never shows. Blizzards of snow. Rain running wild. Foxes playing in mountain corners. Deer carelessly walking man's road.
Some people call it home, some people call it a dream.
This is the place known as, Lofoten.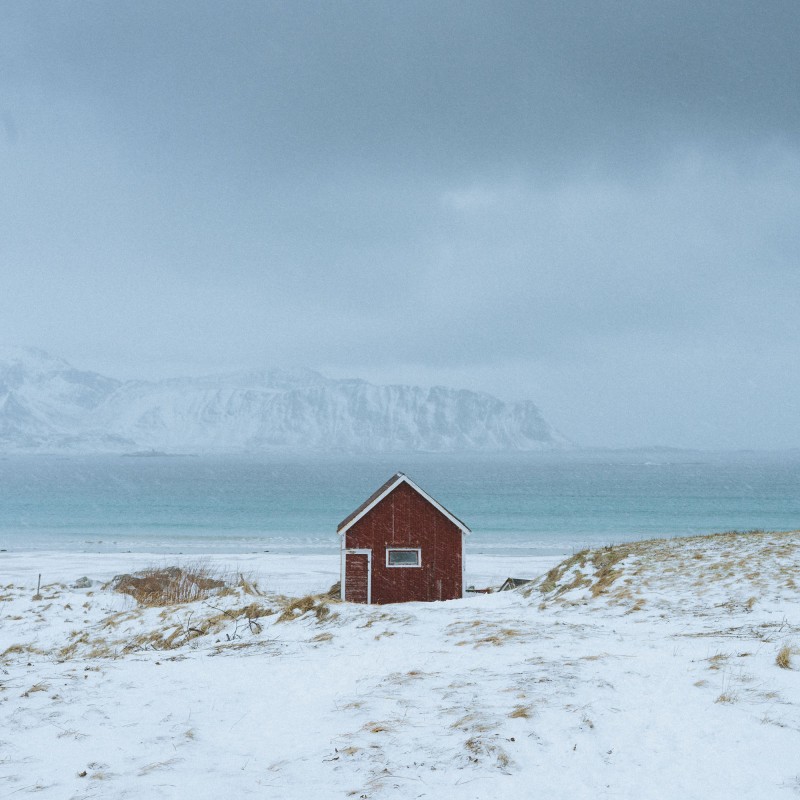 It was once known for its fishing. Nowadays the biggest income is tourism. Which is not surprising, cause it doesn't matter how many times you travel to this place.
The tiny red cabins, with the snowy mountain peaks as a backdrop. With four seasons in a day.
It will make you speechless.
Every time.
I visited this place many times in summer, experienced the serene beauty of the midnight sun, before deciding I wanted to know what's left when the tourists are gone. What I noticed through the years, is that the place has lost its empty roads , as they are often too crowded with cars and tourist buses even in winter.
Lofoten is still a place that is distant but not unknown to people throughout the world. In a way, it remains mysterious. Lofoten has not yet been a part of commercialization as much as other parts of the world. I hope this stays that way.
Not that I mind and don't want people to experience this beauty, but I have a belief that we need places like this, that are not yet "normalized" and explored fully. Land that can be a part of one's fantasy. For young people to still be able to dream of exploration like I did in my younger years, to realize that the world is still a place for which questions can be asked. This may be its greatest value for the generations to come.
I grew up imagining our world as still unexplored. I loved to hear stories about adventurers and places untouched. I used my fantasy to travel to distant places. As I became older my thoughts went from Tintin to explorers like August Andre, Henry David Thoreau, John Muir and thinkers that made me realize that the world within is just as big as the one "out there", like Lao Tzu.
Recently while writing in my journal, I got an understanding of why I choose to travel to this far away places, why I sit in the car for 30 some hours alone. It's stillness. It's silence I'm looking for, and not the silence you imagine while standing alone on a mountaintop, but rather the silence and stillness within oneself. Even though one can find it anywhere, I noticed for myself that these trips to Lofoten and places similar give me a chance to experience myself.
Oslo, big cities are common at this stage of life. Music, cars, people, advertisement and phones are all a part of our daily and usually hectic life. While they are useful, it's easy to switch on autopilot, forgetting that moments in a room alone while doing nothing, or standing in nature with no thoughts,  are necessary for our souls. These moments let us become a bigger part of ourselves. As the Nordic paradise has done for me.
So the "Nordic Paradise" is a project for which I hope people can take a break, maybe for minutes, maybe for hours, to experience silence for a brief moment.
© all pictures Linus Bergman
Essay of our NL1 magazine!