Words & Images Matthew Leonard-
Growing up in a city in England I visioned the sea in a different way to which I do now. Back then I saw it as a non-inviting, closed-up and dark place. It was somewhere I'd rarely venture into, either out of fear of the depths, currents or the cold. My connection with the sea back then was at a distance. It was something I loved to visit and photograph, but rarely enter. Working in London I never got to see the sun set by the sea, or hang out on the beach with friends. Everything was urban, yet I was desperate to be in the country where I loved to take photos the most.
After moving to Australia, the sea opened up to me. It's colours, warmth and wildlife draw you in. The surf culture here encourages people to respect the ocean but to enjoy it also. It teaches you the power, danger and fun of the waves. Before surfing I was unaware of the power of the sea. From the shore, it would appear you just fall into the wave and emerge straight out the other side as easily as you entered it. But in reality, your body is tossed around like rag doll. Arms and legs flung uncontrollably. I've had my heel bend back and hit my head just from the power of the white water. With all this in mind you're constantly aware of potential rocks and sandbanks you might crash into. You try to protect your head with your hands, if the wave lets you. Time slows whilst you're under the water and a sense of loneliness hits you as you get swallowed up. To me, the power of a wave is one of the reasons I surf. Feeling the power of a wave push you through the air whilst your board glides and carves its way through the water is a sensation known only by those who surf. It's the sensation that keeps all surfers coming back to the waves.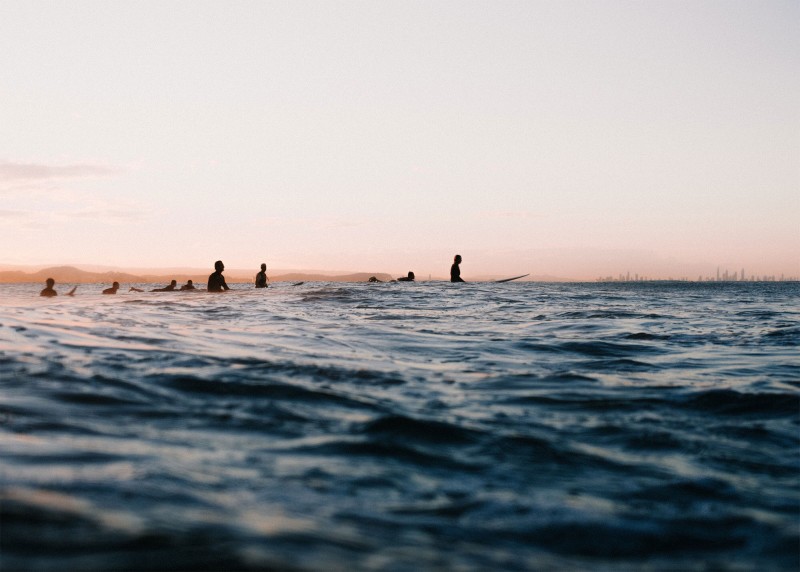 After I began surfing it was only a matter of time before I began photographing it. I have always been obsessed with surf and underwater photography. The only consistent thing with the sea is that it is forever changing, and therefore no picture is ever the same. Combining this with the artistic flare of a surfer is what draws me in. As a photographer I am not after the perfect surf technique, or a manoeuvre that would score a 10/10 on a judging panel. I'm after a picture that captures emotion, energy, patterns and colour.
For me, living by the sea is a way of stepping away from the daily routines myself and so many other people are used to. It was about escaping the big city and the 9 to 5 and changing it for a life that has more freedom. I wanted a life that focused less on how much time you spend in the office and more on the time you spend outdoors with your friends. Back in London, I had to dedicate one weekend to seeing my mates and the next for escaping and spending time in the country. Where as here, I can do both nearly every day of the week.
So yeah, I guess that's what living by the sea means to me, more time outdoors doing the things you love with the people you love. And I think this is the same for most people that live by the sea, which is why everyone seems to get along so well, because we all share the same passions and interests. Where I am, everyone surfs and skates, and you can feel that connection when you meet someone for the first time. Where as in London everyone is trying to be different and unique which can be tiresome. Maybe that's why so many people in London feel lonely, but I'm not sure.
© all pictures Matthew Leonard with kind permission
More about Matt's stunning captures here.
An inspiring weekend dear readers! Take care! Melanie Kettner