Images & Words: Sisilia Tiseli-
Before the day begins…
I do love waking up into the comfort of silence, it is an early morning type of silence, that breed of silence where it is just you and all that is beautiful and natural; the kind of silence that is seen with the eyes and felt only by the depth of the heart. It is at a time where the sky is a deep sea kind of blue, the air is crystal crisp, filling up the lungs with deep sighs of gratitude. Inhaling. Exhaling. Slowly. Sigh. Seconds feel like hours has passed by whilst I enjoy this kind of silence, a sense of peace, just before the day begins.
When I was younger, I was always at a pace where it was on mode "go" and sleeping was a pause between days. The alarm would go off at 5 in the morning, and I am up, ready for the first phase of the day; an hour of exercise, make coffee, shower, drink coffee, getting dressed, blending of smoothie while sipping hastily of black coffee number 2, out the door and walk to train station. At the train station, I mentally go over my to-do list for the day. When the train arrives, it signals that the day has begun. All this happened before 7:30am. This seamless and well-oiled process that was my pre-morning went on for the next 14 years. I had no complains since this pace and structure suited me just fine. However, it wasn't until recently, that my body yelled halt, and so I had to revisit how my day begins.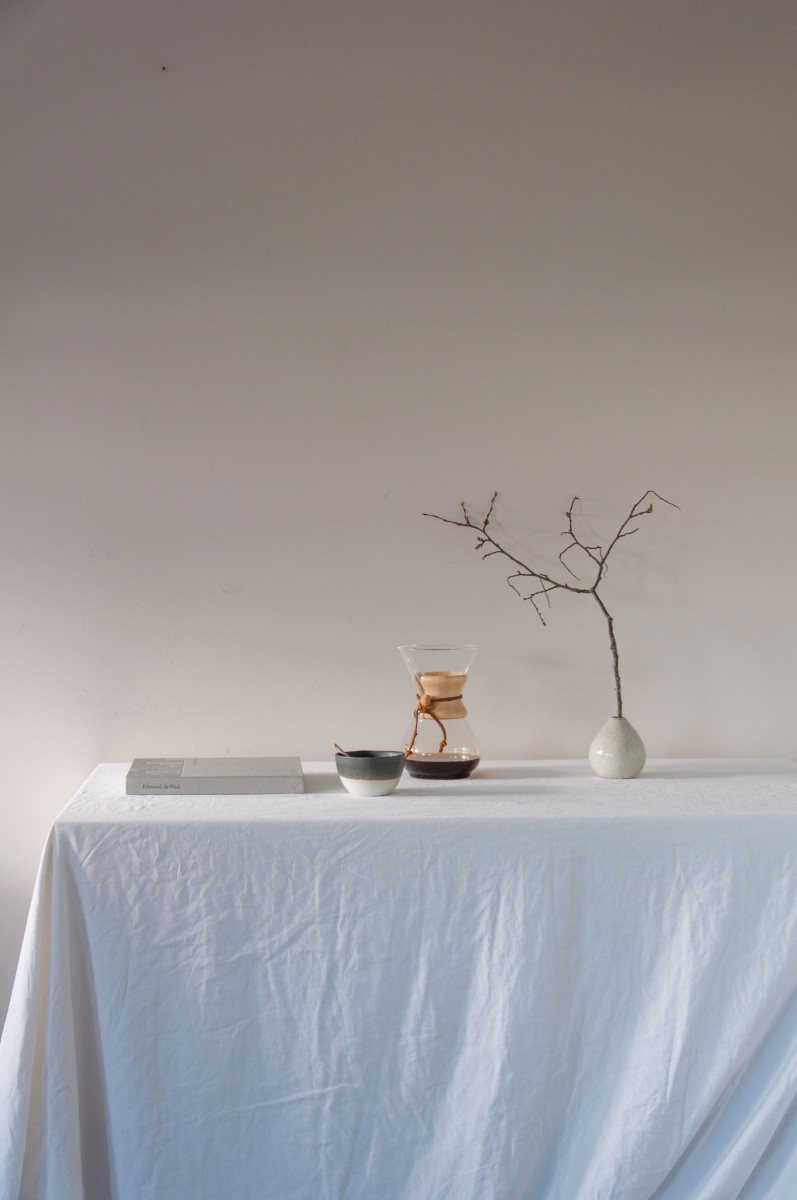 Three years ago, I realised how important it was to start my morning in a way that was gentle and mindful. Most days are demanding as it already is, so it was important that the beginning of the day should be treated with much care. I came across the notion of wabi- sabi as well as the idea of "slowliving" and it helped during this time of transition. I instantly recognised that there was a sense of disconnect within myself and everything else. Nature, which was something that I never appreciated, became the line connecting me to myself and everything else. It is with nature that taught me how to slow down, to stop, to enjoy, and appreciate the beauty that was silence. I also learnt to pause and listen, within myself and also all around me.
Before the day begins…
My mornings these days are extremely simple, grounded by a large dose of mindfulness; me, myself, coffee in my comfort cup, favourite linen blanket and silence.The first thing that I do to break the state of sleep after the dedicated call from the alarm is making that first pot of coffee. The process is methodical, but I take a little time for this, since this too is also a much loved part of my morning. During the time that I have my water boiled, I walk outside with a cold glass of water to take long large gulps of the luxurious morning crisp air, and, just, wait. I wait until I hear the "snap" from inside, a sign that the water is ready. For my morning coffee, I use what I call the comfort cup. I have specific cups for my coffee, tea and hot lemon water. I don't know when this peculiarity started, but it has always been there before I fell in love with beautiful hand thrown ceramic vessels. Ordinary vessels when made with love, is priceless. My favourite comfort cups were made by my dear friend and talented ceramist, Annemieke.
My first act in the morning before the day really begins is to be gentle with myself, to enjoy the little things and to still the mind. Life and the day will be demanding, but starting the day simply and gently is a way to reclaiming a sense of control, a pace that is defined by you…before the day begins.
© all pictures Sisilia Tiseli
More in our NL1 magazine! Available at: coffetablemags,
timelesslinen and papercutshop. More stockists on our home site.
Credits:
Ceramic pieces by Annemieke Boots Ceramics, Amsterdam.
Linen by Joanna Pietrzyk of Timeless Linen, Den Haag.